Ensuring College – University Legitimacy | How to Check Accreditation by the Government of India
Choosing the right colleges or universities from mixed-up lists is a crucial decision that can significantly impact one's educational and professional journey. With numerous institutions offering a wide range of programs, it is essential to ensure that the college or university you plan to attend is approved and recognized by the governing bodies in the country.
Government approval serves as an important indicator of an institution's adherence to quality standards and accreditation. In this blog article, we will explore the steps you can take to verify the approval status of a college or university, giving you peace of mind and confidence in your educational pursuits.
Let's delve into the process of ensuring legitimacy and making informed choices for a brighter future.
How to verify university approval by govt of India
You are absolutely correct that it is important to check if a university is licensed by the government or not. A government license ensures that the university has met certain standards and requirements set by the government. This also means that the degrees and diplomas awarded by the university are recognized and accepted by other universities, employers, and institutions.
It is always recommended to do thorough research before applying to any university to ensure that it is licensed and approved by the appropriate governing bodies. This can help you avoid any potential issues with the validity and recognition of your degree in the future.
A list of approved UGC-specified degrees under Section 22 of the UGC Act, 1956 in India. It can be easily checked or verified on the UGC website. Here
University Grants Commission (UGC) is an important pillar of higher education in India.
the UGC is responsible for coordinating, determining, and maintaining the standards of teaching, examination, and research in university education across the country.
The UGC also provides financial assistance to universities and colleges, promotes research and innovation, and ensures the quality of education through various measures such as accreditation and assessment.
In addition, it also provides grants to support the development of infrastructure and facilities in higher education institutions. Overall, the UGC plays a crucial role in ensuring the growth and development of higher education in India.
Types of Government approved universities in India?
all Indian universities must be recognized by the University Grants Commission (UGC) in order to function legally and offer valid degrees.
The UGC recognizes institutions based on various parameters such as infrastructure, faculty, research, and academic programs. Institutions that meet UGC guidelines and criteria are acknowledged as Central Universities,
It is important to check that the institute is recognized by the UGC Government of India and that the courses or degrees offered by the university are valid across countries. This recognition ensures that the degrees offered by the institute are standard and maintain quality, and are recognized by other universities, employers, and institutions.
In addition to the UGC, there are also other Professional Councils categorized by the department or programs, that control various aspects of accreditation in fields such as engineering,
medicine, pharmaceuticals, nursing, education, and architecture. These councils play an important role in ensuring that the institutions and programs in their respective fields meet the required standards and produce competent professionals.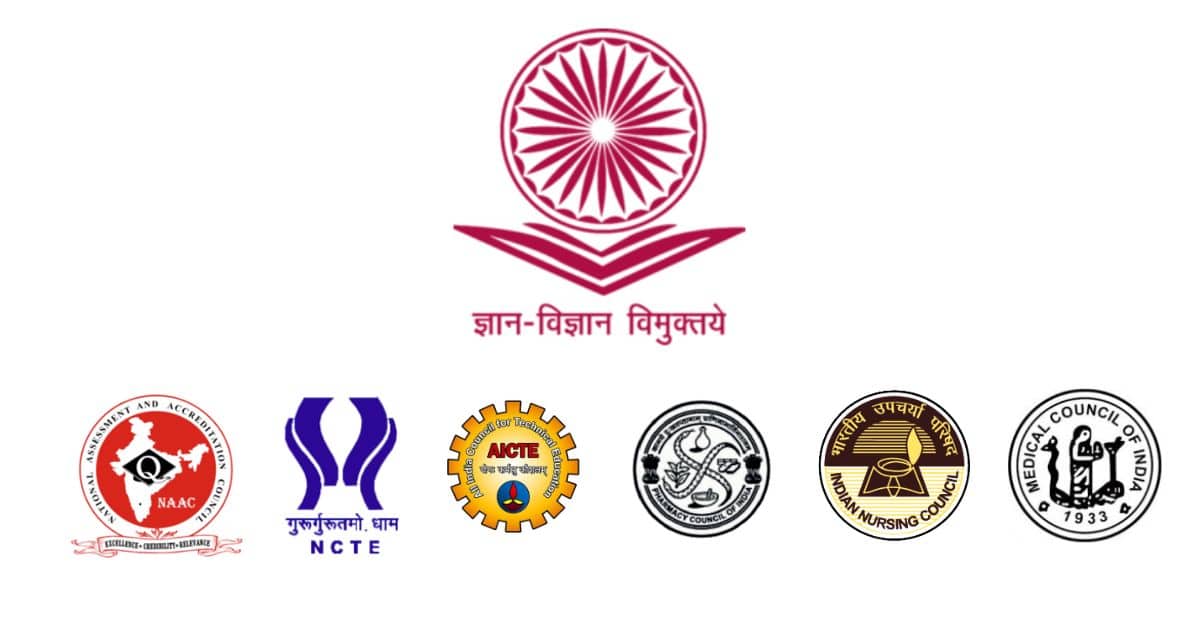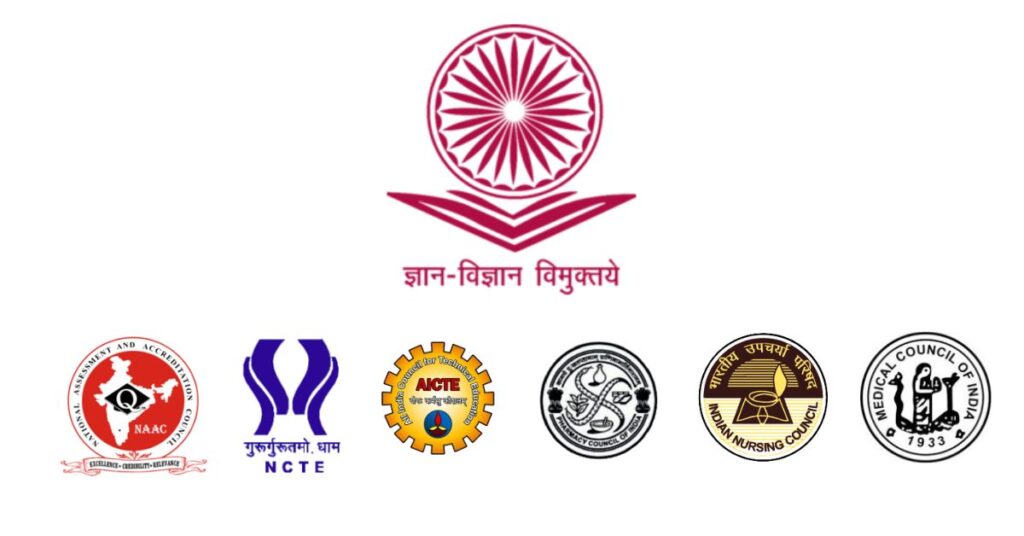 How to check-verify college accreditation:
Checking whether a college is accredited is crucial when considering higher education standards. You can usually find information about a college's accreditation on its own website, a standard affiliated college should have a clear presentation on its own college website.
It is important to note that not all colleges and universities are accredited, and it is the 1st step toward higher education standardization.
To verify a college's accreditation, you can also visit the website of the accrediting Government agencies and search for the college in their database. This can help confirm whether or not the college is accredited and by which agency.
It is also important to check if the accrediting agency is recognized by the appropriate governing bodies.
This ensures that the accreditation process and standards are legitimate and recognized by other institutions and employers.
What are the governing bodies or councils of Education in India?
List of top Governing Educational Bodies in India.
UGC (University Grants Commission)
NAAC (National Assessment and Accreditation Council)
AICTE (All India Council for Technical Education)
MCI (Medical Council of India)
PCI (Pharmacy Council of India)
INC (Indian Nursing Council)
DCI (Dentist Council of India)
CCH (Central Council of Homeopathy)
CCIM (Central Council of Indian Medicine)
DEC (Distance Education Council)
ICAR (Indian Council for Agriculture Research)
NCTE (National Council for Teacher Education)
NCERT (National Council of Educational Research and Training)
NBA (National Board of Accreditation)
BCI (Bar Council of India)
CABE (Central Advisory Board of Education)
CBSE (Central Board of Secondary Education)
SSA (Sarva Siksha Abhiyan)
IEDC (Integrated Education for disabled children)
DIET (District Institutes of Education and Training)
Conclusion:
Following this way one can Ensure College and Universities Legitimacy. In conclusion, taking the benefits of digital India, and verifying the accreditation of colleges and universities is an essential step in ensuring their legitimacy and the value of the degrees they confer.
It is the responsibility of prospective students to research and verify the accreditation status of institutions, relying on official government sources and regulatory bodies. By doing so, students can pursue their educational goals with confidence, knowing that their chosen institution meets the necessary standards set by the Government of India. Because it is a matter of career goal.
Also, read our new business start-up-related article:
Top 17 Billionaires list in The USA | Businesses (24-April.2023): Click here
Msme online govt helpline: MSME,s 10 Most Important Govt Online Portal in India: Click here
10 Powerful New Marketing Strategies helps Your Business Growth: Click here
Chat GPt vs. Google Bard AI Answer: Pros and Cons: Click here
Google Trends Tools | Exploring Top 20 Artificial Intelligence (AI) Free: Click here
Business Development software and tools: Click here
Professional skill development courses online: Click here
B2B business connect: Click here
Earning money: Click here